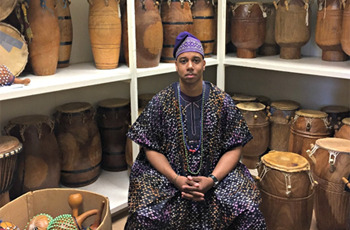 Music is Audible Positive Vibrations
"Music has more than one meaning and most practically, it has more than one function. At its most basic level, music is what I have termed as "audible positive vibrations," or APV. Whether lyrical or instrumental, it is a communicative agent. The most progressive artists, healers, scientists, and academics of their respective times have noted that humans connect music to their spiritual, psychological, emotional, and physical experiences. For both the individual and the community alike, music is a tool, a inherently positive tool by mere virtue of its creative properties, that assists in learning, communication, and the development of most human endeavors.
Practically, music is language, and metaphorically, it is the "voice of a people." Ancient and traditional musical expressions contain within their artistry, an ancestral voice that communicates ideas, history, folklore, philosophy, values, and aesthetics across generational lines. Through the examination of the music of any given society, we can hear the voice of the people creatively and uniquely expressed.
We, at THE FADARA GROUP, embrace and harness the therapeutic properties of music, and champion the healing art of music-making. We also appreciate, respect, and value the ancestral voice of Africa and its diaspora as exhibited in traditional musical expressions. We seek to leverage the wisdom of the past, through application in the present, allowing for future victories and successes."
In Text Photo Credit: Stella Magloire
---